Our official name as a business is B3 Living Limited and we are a public benefit entity registered with the Regulator of Social Housing (RSH) as a housing association.
Our Group Board decides on our direction as an organisation, making sure we're accountable to our customers and to the Government. Scroll down to see our Board members.
The Board meets at least seven times per financial year and are remunerated.
Members are drawn from wide backgrounds, and we appoint new members by looking at their skills and experience against the current skills matrix of the Board. Click here to find out more about diversity on our Board.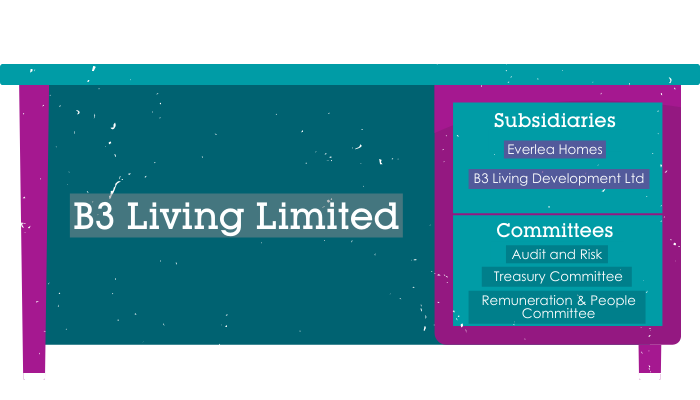 The Board has delegated certain responsibilities to two main subcommittees:
The Audit and Risk Committee, which meets four times a year.
Treasury Committee, which meets at least once a year. 
The Remuneration and People Committee, which meets at least once a year.
We also have two subsidiary companies with their own boards, which meet four times a year:
B3 Living Development Limited (with delegated authorities for approving small development schemes)
Everlea Homes Limited (our commercial arm delivering joint venture developments)