Everything we do, as a landlord, an employer and within the local community, should reflect our values around equality, diversity and inclusion.
We know we have more work to do to build a workforce that's representative and to make sure our services and culture are as inclusive as possible. We've started this journey and learning will be a big part of it.
Equality, diversity, and inclusion are distinct concepts, yet it is important to consider them together.
Equality is about ensuring that every individual has an equal opportunity to thrive, regardless of who they are, their beliefs or abilities. The Equality Act 2010 legally protects people from discrimination.
Diversity is about respecting and celebrating people's differences and treating each person as an individual.
Inclusion is about giving equal access and opportunities to all, by getting rid of discrimination and intolerance (removing barriers).
Feedback from our customers makes a big difference.
Without it, it's harder to know if we're making the right improvements to our services.
If you would like to share your honest opinions with us and better represent the voice of your neighbours, you can join our Customer Community.
Want to find out more?
Talk to us on the live chat below (manned by  human from 9am-5pm)
Call 01992 453726.
Anyone who has concerns about our approach to equality, diversity or inclusion can also email us on equality@b3living.org.uk.
What are we doing to develop equality, diversity, and inclusion at B3Living?
In 2020 we asked our customers and staff for their views on equality, diversity, and inclusion at B3Living and their feedback has shaped our Equality, Diversity and Inclusion Action Plan. Our action plan is reviewed every three months by our Executive Team and every year by the Board.
This includes:
Equality, Diversity, and Inclusion training for all staff.
Building our Customer Community membership and ensuring it reflects our wider customers.
Using customers' diversity information to analyse complaints & survey responses to check that all customer groups are giving similar feedback, and to act where we see any less satisfied customer groups.
Analysing recruitment and selection to check that we are attracting diverse applicants and that our processes are fair.
Looking at different groups....
We have a diverse community of customers and we use their feedback to help shape our business.
In our survey, 68% of customers felt that B3Living staff treated them with respect.
We want to improve on this.
So, we are providing "customer ethos" training to all our staff and have a new Customer Strategy which commits us to provide excellent customer service, including personalising our service to different customers' needs and preferences.
More information about our Customer Inclusion Survey is on our website (click here).
Our customers range from single adults, couples or families requiring a stable home to raise their children, to older people who need safe, secure, and comfortable homes in their retirement. Some also require more specialist accommodation and require support from one of our partner agencies.
Over the coming years we will:
Develop a deep understanding of who our customers are now, and who our customers are likely to be in the future.
Listen to customers and design our services to meet their needs.
Our new "Customer Community" will be key to this.
Our people are the absolute key to delivering our ambitions - so living our values, fostering the right culture and having clear a focus on our people and their growth underpins our plan.
In our staff survey, 100% of staff felt treated fairly by B3Living.
We have rolled out Equality, Diversity & Inclusion training to all staff in 2021 to improve inclusion within the workplace and in our services to customers.
Over the next three years we will:
Ensure our business is inclusive and diverse.
Invest in our people, ensuring that we attract and retain motivated, great people who want to do the best for our organisation whilst developing their skills and experience.
Listen, communicate, and engage with our people.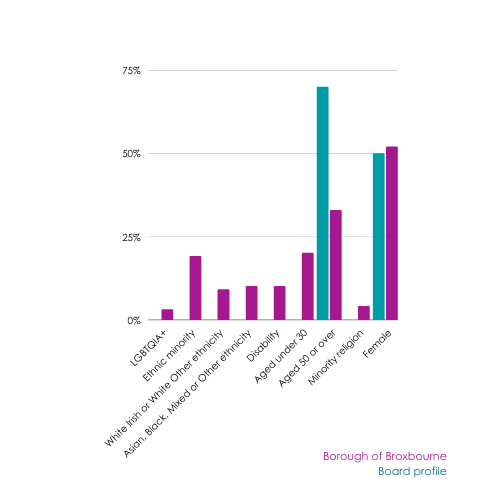 We are committed to building a workforce, services and systems that are representative of the diversity amongst the community we serve. 
We are striving to increase the diversity of our board members over the coming years, to create a more inclusive workplace, that offers equal opportunities to all.  
We are accredited as part of the Disability Confident programme.
(formerly known as Two Ticks - Positive about Disabled People)
This means that we have committed to working to attract, recruit and retain staff with disabilities. That includes offering interviews to job applicants with disabilities who meet all the essential criteria and providing reasonable adjustments and flexibility for applicants and colleagues with disabilities.